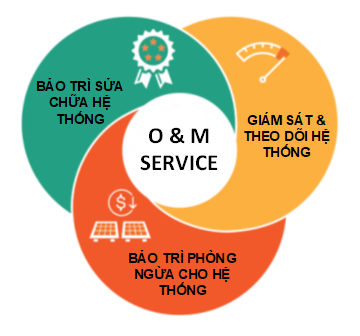 Landmark Parasola Power provides a standard O&M service process to ensure the solar power system operates safely, with maximum efficiency, bringing the highest economic efficiency to the investor.
1. MONITORING & MONITORING SOLAR POWER SYSTEM
• Monitor the solar PV system's performance.
• Clean solar panels
• Error detection and system diagnostics.
• Periodic inspection and assessment at the factory.
• Remote system monitoring.
• Manage the output of the system.
• Identify system trends and analysis reports
2. PREVENTIONAL MAINTENANCE FOR THE SYSTEM
• Maintain Inverter, connection points, fuses, update firmware, upgrade and update hardware, prepare for commissioning and commissioning.
• Maintenance of DC coupling cabinets, connection points and watertight test.
• Check the battery plate and connection points.
• Track, check the battery's IV curve, thermal imaging.
• Check low voltage cabinets, MCCB, ACB, lightning protection SPD
• Check transformers and switches
• Check the mounting system for the panels.
3. SYSTEM MAINTENANCE MAINTENANCE
• Restore system operations.
• Repair and replacement of equipment.
• Manage spare parts.